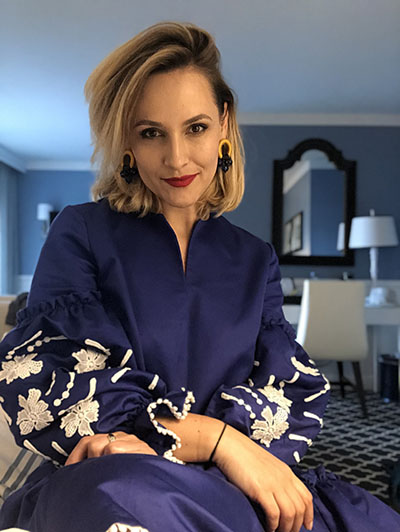 Ania Czuprynski
Founder and Creative Director of Saulė
Co-founder of Club Sustainable
Bold yet serene.
Meticulous yet playful.
Refreshing yet classic.
This dance of complements perfectly encompasses the new fashion and jewelry line Saulė. And it's not a stretch to say that it also carries over to the brand's magnetic Founder and Creative Director, Ania Czuprynski.
If you've ever met Ania, you know exactly what I'm talking about. 
She's bright and observant, savvy yet curious and is executing a new brand that marries traditional artistry, modern sensibilities, and supreme sustainability. 
"Our philosophy has three main pillars: Maximum style, Minimal harm and Meaningful impact. Everything we create, we are creating it the best way we know how."

Saulė items aren't what many would picture when tasked with "sustainable fashion." No sleepy beiges or droopy linens here. Every piece is full of life and thoughtfully hand-designed for the wearer to treasure for years to come. 
Ania shared, "I'm not bashing… earth tones or minimal color collections… we all need a good classy white tank top. But I was missing the color and fun [from sustainable brands]! I couldn't find it anywhere. So I decided to make it."
Each and any piece is wholly original and a significant addition to every woman's wardrobe, with craftsmanship a generation raised on fast-fashion has never seen the likes of. 
Read on to learn more about Ania and her unique path to creating Saulė and the very site you're reading this on, Club Sustainable.
Tell me about your journey as a designer.
Quite long lol. 
I always was a designer/artist at heart but too afraid to pursue this passion as a way to make a living. I had a tremendous interest in living organisms as a little kid, (I had a little microscope and mini lab and all that jazz, and I was dissecting leaves and dead flies.) My educational path went from biology to environmental design to pre-med to psychology. I did love biology and studying living organisms, but when I found myself studying psychology, I felt something was missing. 
I started to paint a lot, probably as a way to escape, or pour my creativity into something. After one of my paintings sold at a local gallery, I was encouraged by a friend to go and talk to someone at College for Creative Studies, where they pointed me to art direction and advertising department. After obtaining a degree I started working in advertising and became a design director at a metro Detroit agency.

I consider myself a hybrid of a designer and artist. These are not the same in my opinion, because they answer to a different cause. But I strongly believe you can be both. No matter what type of design field you're in, you have to stay current, you have to constantly improve, stay on top of trends and stay passionate about problem solving. 
You are a designer when you "create on demand", you have deadlines, you're under pressure and you work with clients. As an artist, you are your own client, you respond to your own deadlines, your creative brain responds to the problem that is currently on your mind, your feelings and your struggles and pours it out into the medium you work in. This is the difference.
Tell me about your journey with sustainability.
Looking back, I think I was always somewhat "off-and-on" eco-friendly type. You know how it goes, recycle when it's convenient, ask for paper bags at the grocery store, etc. These were little "good deeds" that made me feel good and made me clap for myself for being so cool. Most of us are like that. 
As humans, we don't want the planet to go bad. Of course not! But we're also spoiled by today's "I want it now" world, we don't welcome changes, and we excuse our lack of effort for lack of time. Many people (and I was in that group, too) don't think they add up to the global problem ("It's only one plastic cup!" type of thinking). 
I remember I went to the mall one day, and after a few (wasted) hours I thought to myself: everything I looked at so far had horrible, cheap looking quality. The price of it was satisfying to me at that time, because we all have that "who wouldn't want to pay less for more?" mentality. But I wondered, why has our clothing became so "plasticky" looking? I wanted answers. I went home and started searching. And I found "The True Cost" documentary. The day I watched it changed my life. I highly recommend it to everyone, it's truly an eye opener.    
I began looking into ways to change my lifestyle and be more aware of how I live every day. I wanted to be a part of something better, to create a change. And I want to make it clear, going through your home or closet ditching all the plastic and unworn clothes will only add to the problem. Keep your clothes, re-wear them, gradually start making little changes. For example, next time you buy detergent, make sure it's not in a plastic container. Just the change of a mindset is a step in the right direction. It's a process.
What inspired you to make the leap to create Saulė?
Lack of choice! I couldn't find any brands that would match my style and my personality. I was searching for style, color, fashion-forward statement pieces, and I noticed there aren't many, yet. I was hesitant to sacrifice my personal style for Earth-friendly, vanilla-flavored minimalism. And I also realized, that I wasn't the only woman with this dilemma. 
So being a problem solver at heart, I went on a journey to create a brand that is Earth-friendly and fashion-forward at the same time. 
How has your own personal style evolved?
I think we all go through phases in life, and style is always a part of it. I'd say my style became more "refined", but from the perspective of time, I was never dragged into the "ugly" trend of fast fashion. 
You can wear all the best designers in the world, and it could still look like it doesn't belong on your frame. Call me old fashioned, but I strongly believe that the way you present yourself makes a great difference in how people treat you. First impressions matter, big time. I learned it from my mom, who no matter what, always looked great, even if it was a trip to the grocery store.
Personally, I don't think I have a set style. I'm a mix of classic silhouettes with relaxed, easy–going items. I like to experiment. I love feminine clothing; and I don't mean power suits vs. poodle skirts. I'm talking about the type of clothing that makes a woman feel most comfortable in her skin, clothing that gives her that kick of confidence. When you know you look good in something, you feel good, and that brings a lot of positive vibrations. I love when clothing is comfortable and looks/feels good. I'm no stranger to loud pieces either, I like to be bold.
My everyday style depends on my mood; I can jump into the flowy delicate romantic dress and the next day wear all black clean lines because I mean business. I never wear anything I feel uncomfortable in, or something that fits me wrong.
We are all different body types. The trick is to learn what you feel good in and what you look good in. For example, I'm not a tall person, so I don't look good in pants that are wide on the bottom. You'll rarely see me with a decorative belt, because it makes me look shorter than I am. 
Details like that make all the difference. Stay true to yourself and don't force "trendy" just because it's this season's must. Don't be afraid to experiment, don't follow what everyone else is wearing and have fun with it.
Where does the name Saulė come from?
Saulė is the name of the Baltic goddess of the sun from Eastern European mythologies (Lithuanian to be specific). She is responsible for well-being and regeneration of all life on earth and this is what we strive for as well. 
Our roots are Eastern European, and we wanted the name to have a strong connection to our philosophy. And since humanity has always looked up at the brightest object in the sky, which is the sun, it was a perfect name for us. 
3 words to describe the Saulė woman?
Strong. Empathetic. Down-to-earth.
What is your favorite piece from the line?
The Saulė earrings — it's the first design I originally created. When I wore them the first time, someone pointed out that they have a shape of a female symbol. They do, and this style became our logo mark, hence the sentiment. After that, it felt like everything was falling into place. 
What's been your biggest challenge so far?
There are plenty, but nobody said it'll be easy. We follow a simple philosophy: gorgeous fashion should both feel good and do good. Everything we create, we are creating the best way we know how. And there are lots of challenges in doing so. 
For example: Finding and sourcing materials. The whole research/logistics of where to do it, how to do it and with whom. You see, buying organic cotton from India doesn't mean you can put a check mark on having a sustainable dress. If you want to make it all according to your ethical standards, you have got to make sure people who created that fabric for you are being paid a livable wage and are working in humane conditions. Oftentimes, it's not the case. Will you be able to travel often to India to do these checks?

Another challenge: Many times, we have an idea for a cool earring piece, and we decide to kill it because we can't find a way to produce it without using plastic. Or if it's not plastic, it's too heavy on the ear. We have to use our creativity around what we can work with. Most times it's fun but there are moments it gets frustrating. 
What is one thing people can do to be more sustainable today?
Stop impulse buying clothing. You don't need another pair of jeans. Re-wear your clothes, have fun mixing and matching. Buy from companies that are transparent and honest so your purchase could be a part of something good. 
What is your advice for other designers and creators looking to get into the sustainability space?
Never lose your passion. It's a hard field to get into and it's also easy to give up because of all the challenges it presents. Be honest about why you want to go into it, and don't go into it because it's trendy now. 
Club Sustainable, this site, was also your brainchild/baby. Why did you want to create this? What compelled you to create this site?
It came out of a brainstorming session with my business partner Igor. We wanted to have an educational angle of the brand, but we didn't want to be preachy or push our views on anyone who simply just liked our earrings. And we wanted to create a hub of information on how to become more earth friendly. There's major lack of awareness about the destruction fast fashion is causing the world. We know a lot about healthy food choices, but we don't realize how unhealthy our clothes are. 
What's next for Saulė and Club Sustainable?
We want to be a brand that's known for earth-friendly solutions. 
We started with jewelry and dresses, but we won't stop at that… we'll introduce ideas for home as well. 
For Club Sustainable, we want to become an international hub, inviting our competitors to be a part of this project. There is enough space for all of us in this world. 
Fill in the rest— Sustainability in fashion is:
The future norm. 
FOR MORE FROM SAULE:
Facebook: @saulelabel
Instagram: @saulelabel
Pinterest: @saulelabel
Twitter: @saulelabel